PRICING STARTS FROM $829,000 | 26-30 Earlsworth Road, Māngere East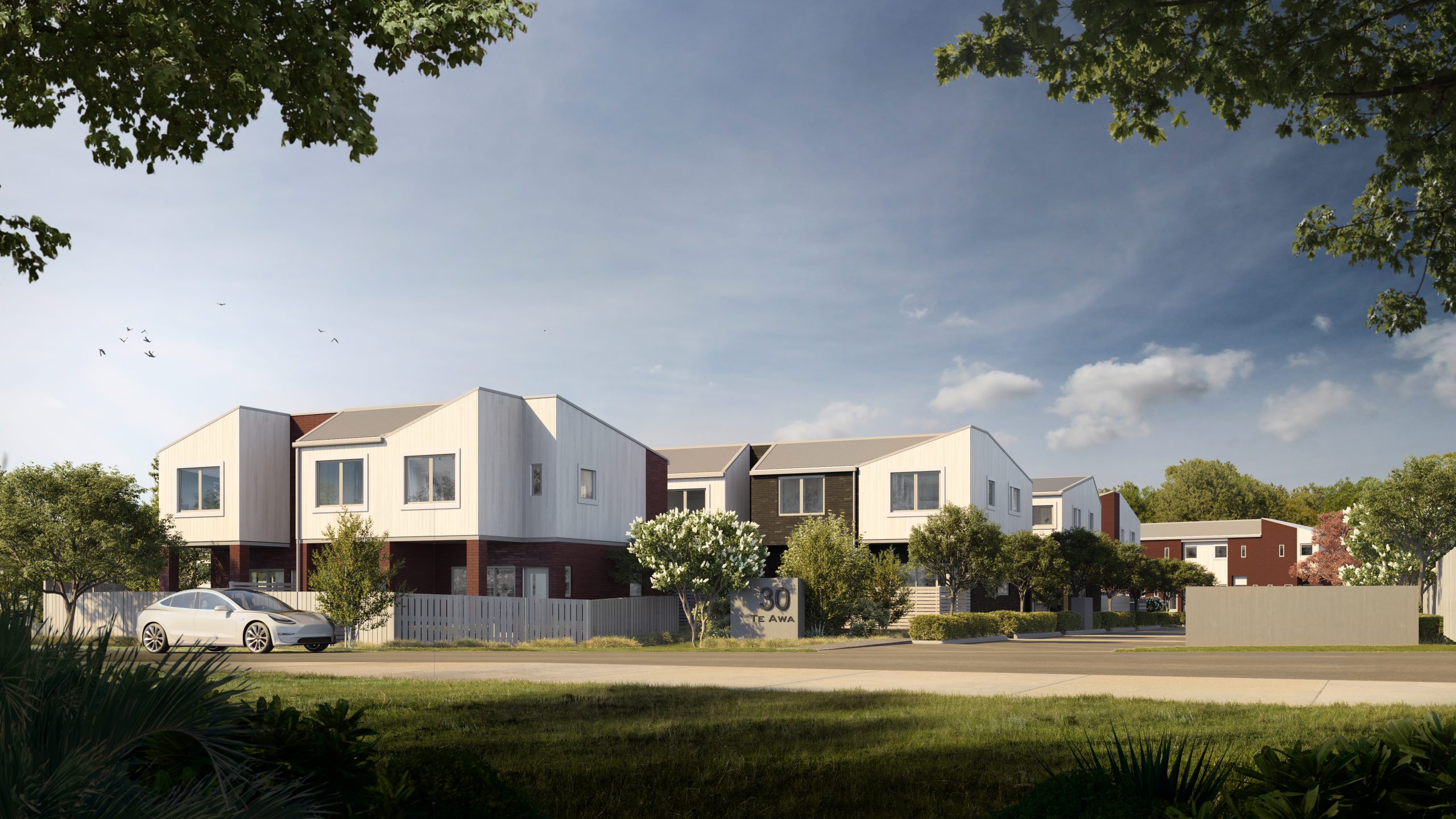 WELCOME TO
OUR LATEST
DEVELOPMENT
A higher quality of life awaits you… Pricing starts from $829,000
Te Awa Terraces introduces a vibrant development of 79 residential units to Māngere East. Our bespoke townhouses boast spacious 2-bedrooms, 1.5 bathrooms and their own car park.
Intelligently designed and situated in a fabulous, family-friendly location Te Awa Terraces is a wonderful community to come home to. Built close to large employment hubs, key infrastructure, Middlemore Hospital, and transport links, these innovative homes will be perfectly positioned for young professionals, couples, and investors.
Enquire Now
Retail, Leisure &
Entertainment
This development sits next to Royal Auckland and Grange Golf Club, Walter Massey Park and Ōtāhuhu Leisure and Pool Centre, offering both a healthier lifestyle and plenty of wholesome entertainment for homeowners to enjoy.
Whether you are looking to revel in some retail therapy or simply need to do your weekly food shop you will have everything you need with Ōtāhuhu Shopping Centre and Old Papatoetoe Shopping Centre, all on your doorstep.
Located in the middle of Ōtāhuhu and Papatoetoe Train station, Te Awa Terraces are in an excellent location for commuters and allows access to unlimited travel and employment options for all Te Awa residents.
Homes Exuding
Comfort and Style
This thoughtfully designed development offers beautiful homes that are ideal for those seeking a relaxed lifestyle. Every home provides premium lighting, quality fittings and sophisticated detailing throughout. Downstairs, you will find an inviting living area that flows effortlessly out to an immaculate private garden, superb for entertaining and alfresco dining.
All gardens are fully fenced, giving peace of mind for those with small children or pets. Additionally, purchasers will have space for bicycle storage, facilitating cycle access throughout the area and beyond. Upstairs lay two stunning bedrooms with large wardrobes. Placed between the two bedrooms you will find a pristine bathroom fitted with the latest modern fixtures.
The typical terraced unit is "blurred" with shared roof forms and varied cladding types. A sense of safety is achieved through passive surveillance, as front doors and windows provide sightlines over all the shared spaces within the site. Be the first to own one of these brand-new homes whilst investing in high-quality that lasts.
Reserve your unit now
Benefits of Buying Off-the-plan
TODAY'S PRICE FOR TOMORROW'S EQUITY
One of the most exciting opportunities that exists with purchasing a property 'off-the-plan' is that you can lock in the ownership of a property without having to settle for an extended period of time. It may be one or two years before settlement, so capital growth while your property is being built can often make your initial deposit more valuable in the meantime.
TIME IS ON YOUR SIDE
Buying off-the-plan allows the benefit of 'time'. A longer settlement period means you have some breathing room to take care of the investment. Tidy up your finances. You can use this time to tidy up your finances, save money and reduce the amount you need to borrow. Not to mention you will have more time to reduce any existing debt. This time can also be used to organise to move house if you intend to be an owner-occupier.
BRIGHT LINE TEST
The extension of the bright-line test to 10 years excludes new builds. Capital gains tax will only be owed if the property is on-sold within the original 5 year bright line period.
Interest Limitation Rule New Build Exemption
Off-the-plan properties qualify for the New Build Exemption under the Interest Limitation Rule. Purchasers will enjoy 20-years of interest deductibility on rental income earned from the date when the CCC is issued*. The 20-year exemption is transferrable to any future owners of the property, which makes the property more attractive to potential buyers if sold within the 20-year period.
First Home Grant Eligibility
Check out this link